Dear [subscriber:firstname | default:reader],


Over the past week, I have been grieved by the tragic death of George Floyd and the events that have resulted from it. Having recently walked through our own season of loss, Linda and I understand the pain of losing a son. Mr. Floyd's death was not only sad, but also inexcusable. His death has once again made us aware of the unhealed wound of racism in North America, and demonstrations around the world remind us that prejudice is not limited to the United States.
Scripture instructs us to "mourn with those who mourn" (Romans 12:15 NIV). Scripture also instructs us to "Speak up for those who cannot speak for themselves, for the rights of all who are destitute" (Proverbs 31:8-9 NIV).


I join with the general presbyter of North America in denouncing racism in any form and from any source. Through social media, email, and phone calls, our offices have received messages of prayer and concern from all around the world.


As we once again face actions and words that seek to divide us, the Church of God of Prophecy remains committed to the biblical affirmation that every man and woman is made in the image of God. As an all-nations church, let us choose to remain faithful in praying for our leaders and be united in purpose to proclaim the gospel of Jesus Christ.


In the days ahead, my office will prayerfully seek input from an inclusive and diverse group of people to explore how the church can address these issues and become agents of change and reconciliation. In the meantime, please join with me in praying for the Floyd family, those impacted by violence or persecution around the world, for our law enforcement and first responders, and those serving in positions of influence and responsibility within government.


Bishop Sam N. Clements, General Overseer

GLOBAL MISSIONS MINISTRIES
Crisis is often the catalyst that awakens us to the presence and power of God, and that which moves us to respond to the possibilities of His work and ministry around us. Almost immediately we began to witness compassion, kindness, and service in action from many of our national missions ministries. Before relief from the devastating consequences of the Covid-19 pandemic could be requested and received, national ministries were already distributing food and necessary supplies to their pastors, their people, and those in their communities who were immediately in need. When asked from where the funding had come to respond to the needs, our national ministries responded that they had used their personal allotments (that come at the beginning of the month) to obtain food and necessary supplies to assist the needs of the people. Thankfully, they moved with sacrificial quickness, as most of their nations went into lockdown, many without any national stimulus to assist their people while shutting down earning opportunities in many already impoverished and largely unemployed nations. While it may be difficult for us to recognize the blessings in the midst of the crisis, we have almost immediately become witnesses of the giftings of leadership, ministry, and love—all attributes Christ lived before us and demonstrated in His earthly ministry. May the Lord continue to use and bless these servants of ministry.
Read some of the latest reports from the following nations (click on the nation to read more):

ACCREDITED MINISTRY DEVELOPMENT
AMD celebrates 27 Graduates from 15 Nations this Spring -

T

wenty-six Master of Arts in Religion students and one Doctor of Ministry in Global Pentecostalism student graduated from Gordon-Conwell Theological Seminary in Boston, Massachusetts on Saturday, May 9. Those who graduated represented the nations of Bahamas, Barbados, Canada, Chile, Cuba, Curacao, Dominican Republic, El Salvador, Guyana, Jamaica, Nicaragua, Spain, United Kingdom, United States, and Venezuela. Among these graduates were three overseers, many pastors, and several who graduated with honors. To view a complete list of graduates, click here. AMD congratulates our students and looks forward to how their theological education will contribute to their ministry to COGOP churches around the world. Those interested in AMD programs should visit the AMD website at cogopamd.org
INTERNATIONAL CHILDREN'S MINISTRIES
Project Build-A-School Surpasses $20,000, El Salvador Outreach Continues -
This month, International Children's Ministries KidServe Coordinator Michelle Brooks-Young announced that giving to the ministries' mission project has surpassed $20,000.00. Project Build-A-School, which began in June 2019, is the largest and most ambitious mission giving project ever attempted since the first project in 2005, then called Helping Hands for Kids. This project is supporting the outreach efforts of the COGOP in El Salvador as they serve thousands of children every day with food, tutoring, and sports activities. To read more, click here.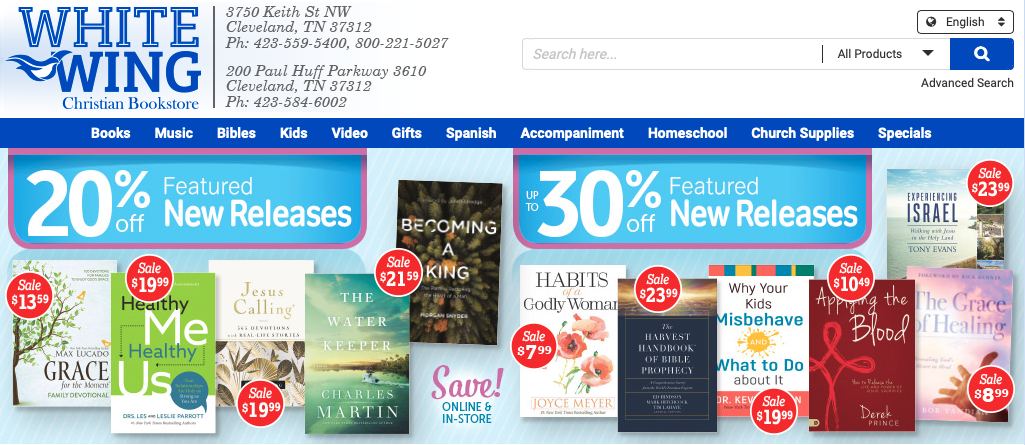 Shop the all-new www.shopwhitewingbookstore.com, for thousands of Christian books, music, Bibles, and homeschool supplies! This site is separate from www.whitewingbooks.com, where you can still find Sunday school curriculum and Church of God of Prophecy specific items.
GLOBAL SIMULCAST
Mark your calendar and make plans to join us for the COGOP GLOBAL ADDRESS coming July 11, 2020. Our General Overseer will be sharing a message and each general presbyter will be sharing.
The service will also include special music by the world-famous Bahama Brass Band and a choir of singers from around the world!
Join us!