Dear[subscriber:firstname | default:reader],


Because church membership matters, the General Overseer's Office has designated September as MEMBERSHIP MATTERS MONTH.

To encourage every local church's involvement in this initiative Leadership Development and Discipleship is offering a five-session course that will help you prepare potential members for church membership.




MEMBERSHIP MATTERS materials include—a promotional video, teacher and student manuals, and a certificate of completion.

This free, downloadable course includes the following lessons—"New Life in Christ," "Why Membership," "Our Local Church," "It's Bigger Than We Are," and "What Now?"
Membership Matters for Kids!
As we enter
"Membership Matters" month, how will your church engage children in this special initiative?
MEMBERSHIP MATTERS FOR KIDS is
a five-lesson companion to the
MEMBERSHIP MATTERS
course, specially designed for elementary-age children.
Membership Matters for Kids
addresses the same topics found in the adult course but restated in children's terms. Each lesson includes a teaching manuscript with object lessons and reproducible student outlines that may be utilized by pastors and children's ministers.
Membership Matters and Membership Matters for Kids
October Mission Drive is just a few days away. It is one of two annual concentrated opportunities to spotlight, celebrate, and intentionally support the work of the Gospel among our International network. This is an exciting time to connect our local churches world-wide.


Due to lower church attendance during the COVID-19 pandemic, Harvest Partner Mission Giving and Project Giving is considerably down this year. To raise awareness, once again we are highlighting some of the exciting testimonies and updates concerning Gospel work and prayer opportunities ongoing in every region of the world where we have ministry in the October issue of the White Wing Messenger. We are also providing a master printing copy for bulletin inserts for the local church, available in the languages of English, Spanish, and French. Be on the lookout for a digital greeting designed for second Sunday mission's emphasis at your local church in English and in Spanish.


We are grateful to partner with local churches and individual donors and thankful to express our gratitude for prayer and giving to Missions, and to remind you that 100% of your Mission Offerings go directly to the mission field.


With the multiple challenges emerging today through disasters, afflictions, epidemics, raging violence, etc., many have suggested that we are living through a season on earth perhaps never experienced before. I have considered those reflections from others and settled into a clarity of purposeful peace. That clarity implores me by the compelling fire of the Holy Spirit that His call remains to speak the Gospel of Christ to the ends of the earth.


The October Mission Drive is designed to motivate us to action to hear, accept, and become a participant in fulfilling the purpose of God. The moving of the Holy Spirit continues to reveal the heart of God on display, as the people of the earth need a Savior. His is a clear and compelling call.


-Dr. Cathy Payne, Global Missions Ministries Coordinator
Become A White Wing Messenger Booster!
Being in touch is vital. The White Wing Messenger is an exciting place for the Church of God of Prophecy family to connect. In the White Wing Messenger, we hear the voice of our leaders as well as our brothers and sisters around the world. Ask others to join the conversation. Become a White Wing Messenger Booster today.

Spirit and Life Seminary offers the Certificate in Ministry and Theological Studies. Our certificate program is currently in process of seeking certification from the Association for Hispanic Theological Education. AETH certification qualifies students to apply towards master's programs with ATS accredited seminaries that accept such certification for admission to their programs.


Session 2 of the Fall semester is scheduled to begin on October 10, 2020 and will run through December 12, 2020. Apply now in order to enroll in courses for session 2. Spirit and Life Seminary will offer the following online courses in English and Spanish:

TS100 Introduction to Christian Doctrine / TS100 Introducción a la Doctrina Cristiana

BI150 Survey of New Testament /BI150 Introducción al Nuevo Testamento
Click HERE to start your application process.

Accredited Ministry Development has partnered with Pentecostal Theological Seminary to offer the following master's degrees to COGOP members:

Master of Arts in Church Ministries (MACM)– 36 credit-hour program with the following concentrations:

Discipleship & Ministry Leadership
Global Pentecostalism & Mission
Congregational Care & Counseling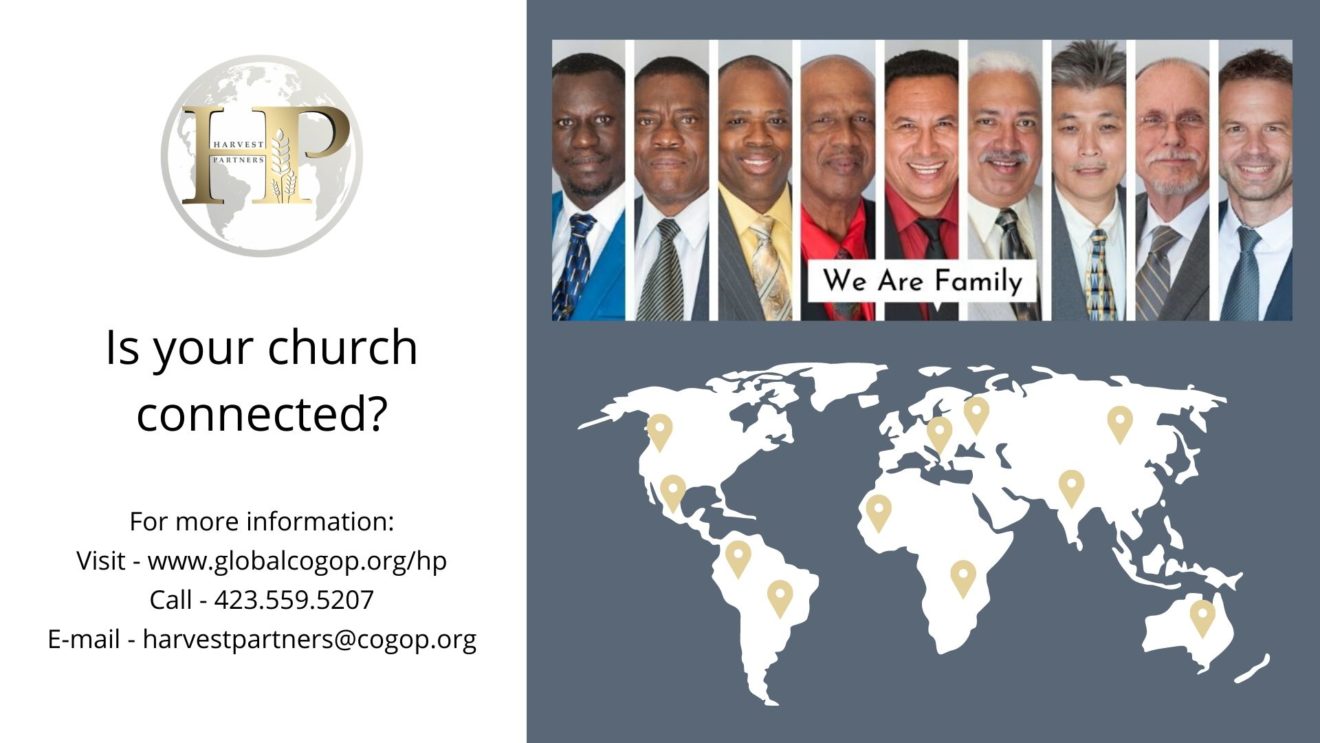 Your contributions to missions are vital to our ministry worldwide and spreading the Gospel to all nations. Thank you to all our faithful Harvest Partner churches who have continued to support their partner. If your church is not connected to a nation and desires to do so, email harvestpartners@cogop.org for more information.